Vendor Feature: Trygg Tire Chains

Introduction
Starting in 1939, TRYGG chains is the only remaining chain manufacturer in Norway and is widely recognized as a global leader within its scope of expertise. By using high quality steel produced in European steelworks and maintain full control throughout the entire production process, TRYGG chains guarantees quality in every link. Since the 1970s, Northern Metalic has been partnered with TRYGG to provide our customers with reliable options to keep your employees and equipment safe.
Why Tire Chains Are Important
Much like Norway, northern Canada is known for its harsh winters. With these winters comes difficult road conditions including ice. Tire chains are a great option to help increase the traction of your equipment to reduce accidents and protect all drivers on the road. In BC, commercial drivers are required to have tire chains or other acceptable traction devices from October 1 to April 30.
Production
All TRYGG chains are produced entirely from first generation German alloy steel that contains nickel, boron, and manganese. These alloy components are specially formulated to maximize the heat treatment hardening process that results in extreme durability and toughness.
Quality control testing is done throughout the production process from wire drawing to final packaging to provide our customers with the highest level of confidence in the reliability of our chains.
Choosing The Right Chains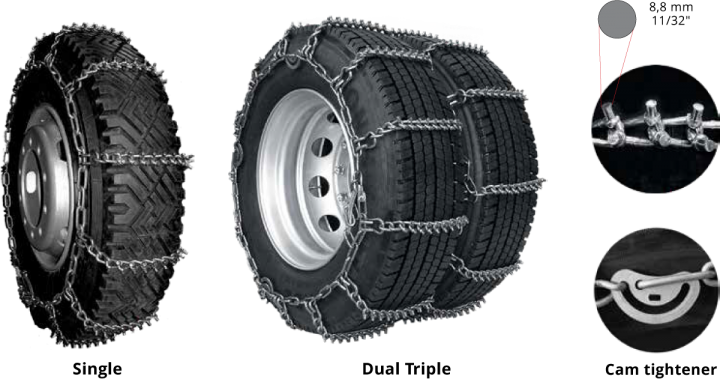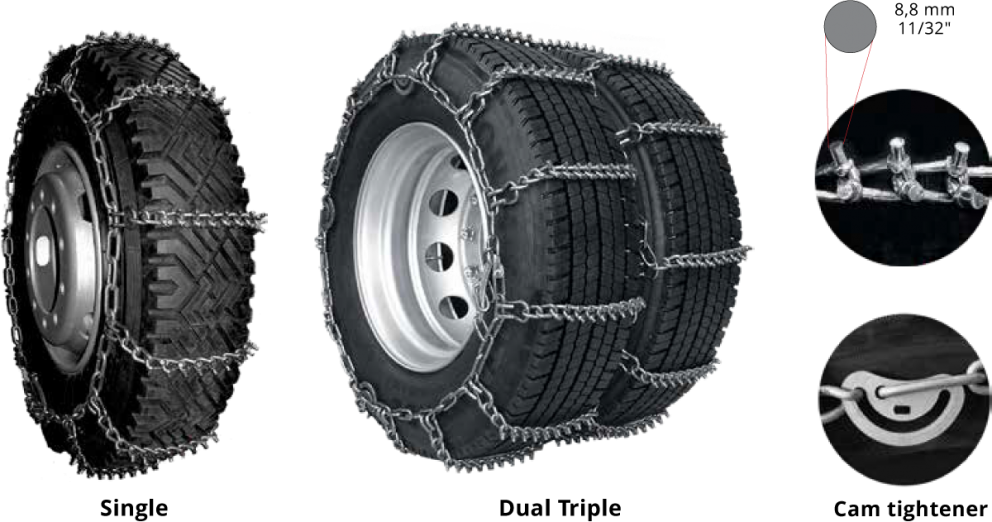 At Northern Metalic, we carry a wide variety of tire chains from TRYGG. Areas that we cover include transport, off road vehicles, tractors, construction, and forestry. When choosing the correct tire chains for your equipment, it is important to determine the size of tires they are going on and if you require singles or triples. We also provide various options such as studs, cams, and more.
Tire Chain Services
Although TRYGG offers a wide variety of options, we offer custom built chains for those random tires and situations. We also offer inspections and repairs just in case. To find out more, contact your local Northern Metalic today.